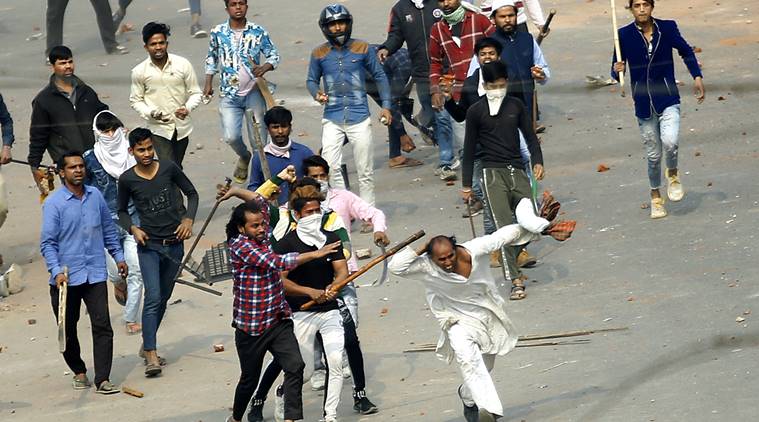 Delhi violence live updates: A mob attacks a person at Khajuri Khas crossing in Delhi on Tuesday. (Express Photo: Praveen Khanna)
At least 27 people have been killed and 250 injured since violence broke out in northeast Delhi on Sunday. Groups of men weilding sticks and rods roamed Maujpur, Gokulpuri, Bhajanpura, Jaffrabad, Chandbagh and Khureji Khas areas, setting ablaze homes and shops of Muslims.
The police said at least 20 people were detained in connection with the violence by Tuesday night.
National Security Advisor Ajit Doval visited the riot-affected areas on the intervening night of Tuesday and Wednesday to take stock of the situation. He had earlier met DCP (Northeast) in Seelampur, Ved Prakash Surya, and ommissioner of Police Amulya Patnaik.
Delhi Chief Minister Arvind Kejriwal met Lieutenant Governor Anil Baijal and Union Home Minister Amit Shah on Tuesday on the violence. Sources told The Indian Express Kejriwal had asked the Home Minister to use all options to control the violence, but did not specifically ask that the Army be called in.
Following the meeting, Kejriwal said, "If the violence escalates, it won't help anyone… We have been assured that police are taking action and that enough people will be deployed… Many policemen are injured as well."
He later visited Rajghat along with his deputy Manish Sisodia and other AAP ministers to "pray for peace".
Here are links to more of our reports on Delhi violence:
Divided in violence, united in grief: Families of dead say hate is to blame
Delhi HC holds midnight hearing on violence
Explained: What the Delhi government can/cannot do about the violence
Can't bear to look at my photograph, says man at centre of vicious assault caught on camera